The following Plankowners are members of the USS STERETT Association:
DLG-31 Plankowners – 24
Richard Allard,  Kelley S. Arbuckle, Robert "Mike" Britton, Jack Coon, George L. Dowell, Tom Faulkner, Ronald "Ron" L. Ferraro, Edward J. Fox, Joel E. Haley, James "Jim" Lillian, Gerald Mosher, Larry Motz, Gregory "Greg" Neshime, Gary D. Nichols, Michael O'Neill, Emery "Pat" Patrick, Samuel G. Peterson, Randy G. Robbins, Robert E. Rumney, Robert "Bob" Shope, Ken Strouf, James "Jim" Trotter, Michael S. "Mike" Vogel, and David J. Wolf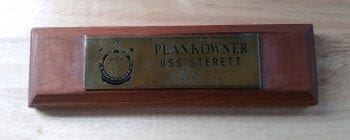 DDG-104 Plankowners – 6
Ryan P. Haley, John E. King (Honorary), Dale LaBarge, Patrick F. Leopold, Deborah "Debbie" Sterett (Honorary), and Charles N. Williams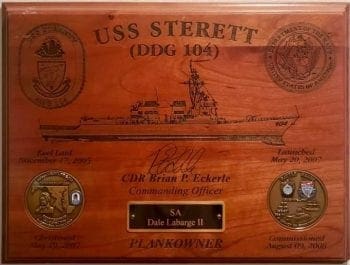 .
So, what does it mean to be a plankowner – Article by Jecey Eckhart March 20, 2007 on The Virginian-Pilot
This content is restricted to site members. If you are an existing user, please log in. New users may register below.