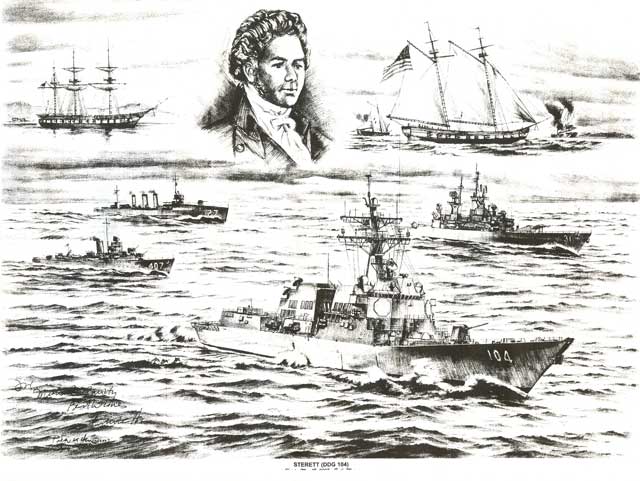 This captivating sketch depicts the newest Sterett DDG-104 in the foreground steaming in formation with her three predecessor ships also named after the early American naval hero Andrew Sterett whose image appears in the top center.  To the left is the first USS Constellation – where he was gunnery officer.  To the right – shown in battle under sail – is the first USS Enterprise – where he was the commanding officer.
The "three-stacker" DD-27 (middle center) was the first Sterett, the WWI era destroyer that was in service from 1910-1919. On the middle left is the second Sterett: DD-407. Commissioned in 1939, it went on to engage in several key battles throughout WWII. The third Sterett: DLG/CG-31 (middle right) served from 1967 -1994 deployed as a key asset in Vietnam operations and throughout the Far East and later in the Persian Gulf. And the fourth Sterett: DDG-104 (foreground) is currently homeported in San Diego, CA.
This drawing was done by Peter K. Hsu – the respected naval architect and self-taught artist – who focused his great talent on this work presenting the Sterett story.
This content is restricted to site members. If you are an existing user, please log in. New users may register below.