by Charles "Chuck" Bond (HM2, CG 31, 86-89)
My most outstanding tour in the Navy took place aboard the Navy's only forward deployed warship homeported at the time in the Philippines during the 1980s.  That tour cemented my desire to stay in the Navy as it had a significant contribution to my success culminating in my retirement as a Command Master Chief after more than 30 years of service.  The leadership from the top down was simply outstanding!  The Command Triad lead by CAPT Genet, XO Barker and CMC Dahlke was the greatest.  The Wardroom and Chief's Mess were the best in the Fleet.  My Shipmates were hard-chargin' and ready to take on any challenge.  USS STERETT (CG 31) was truly Dauntless!!!  On her, I was advanced to Hospital Corpsman Second Class, qualified as an Enlisted Surface Warfare Specialist, was recognized as a Senior Sailor of the Quarter, and received a Navy Achievement Medal.  But what I am truly grateful for is what took place on the evening of May 25

th

, 1989, off the coast of Luzon.
I was standing my watch during flight quarters between the forward and aft superstructure.  I had so much on my mind that I didn't notice LCDR "Mac" MacCrossen, Officer-in-Charge of HSL-33 Detachment SIX, walk up behind me.  He asked me if I was OK and I responded, "You don't want to know Sir!"  He persisted in getting me to share what was on my mind and finally, I relented.  I told him that my Filipina girlfriend, Gerlie, was nine months pregnant and due any day now.  I continued to share that I needed to get a number of things in order before the ship got underway again so that my child would not be born "outside the gate."   I have always been a believer that everything happens for a reason and this great leader's concern for my well-being was truly God-sent…little did I know what this "angel" had in store for me.  You see months before, I had submitted a request to marry a foreign national to the Commander, U.S. Naval Base Subic Bay, Republic of the Philippines.  While out at sea, I received word that my marriage-package was approved and waiting for my return.  The ship had been underway since May 7th and after a port visit to Hong Kong (9-15 May), and the first-since-1949 port visit to Shanghai, People's Republic of China (19-21 May), the ship was scheduled to be inport for a very short period of time.  On the morning of May 26th, the ship was to load weapons at the Naval Magazine pier and, around lunch time, would move to Alava pier at the Naval Station near where my approved marriage-package was located.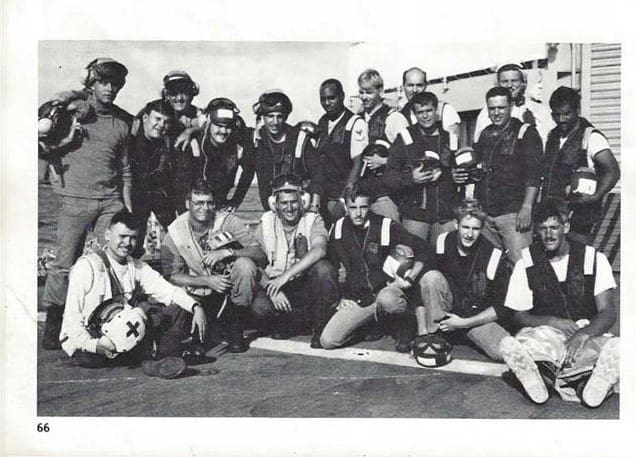 The 1987-88 Flightdeck Crew – Standing L to R – BM2 Pritchard. HT2 Unverdorben, BM2 Beagal, HT2 Charleton, HT2 Brandt HT2 Patterson, HT2 Ron Burch, HT2 Hessefort, BM3 Sullivan, MS2 Williams, SMSN Thomas and BM3 Velzquez.  Sitting/kneeling L to R – HM2 Bond, BM2 Owens, BM2 Gage, HT2 Grant, HT3 Reske and BM3 Platt.
Being that the ship was getting underway the next day, I had about 24 hours to get things in order to marry my beautiful Filipina.  I told LCDR "Mac" MacCrossen that once pierside at Alava pier, I had to find my approved marriage-package at the PSD mail room, get to Subic City where my sister-in-law, Victoria, would be waiting to accompany me on the 2 to 3 hour bus ride to U.S. Embassy in Manila and obtain the last U.S. legal hurdle called a "legal-capacity" before it closed for the weekend.  I would then take the bus ride back to Olongapo, and find a justice of the peace to marry us late in the evening.  Back in those days, this was no easy task and very time consuming, which was the angst that "Mac" MacCrossen saw me dealing with.  I looked at him and saw the biggest smile followed by "You know Doc, I have been trying to find a reason to fly into the embassy compound and you just gave it to me!"  I responded to him once again, "you don't understand Sir!"  He continued to smile and said, "Oh I understand Doc, and we are going to get you married tomorrow."  He told me after flight quarters to prepare a bag packed with civilian clothes and be ready at 0500 to fly ashore.  He also told me he would take care of everything and to not worry anymore.  Soon after flight quarters ended, my Chief summoned me to Sickbay and after inquiring how I was able to get a flight ashore, he told me that my TAD orders were ready and that I was off until the ship got underway Saturday afternoon.
Early morning the next day, just outside of Subic Bay near Grande Island, we lifted off from STERETT and within minutes we touched down at NAS Cubi Point, which was about a 30 minute cab drive to the Naval Station.  With a letter on hand authorizing me to grab my marriage package, I was met at PSD by a former STERETT-Shipmate, Rich Yeskis.  He led me to the mailroom where I found what was keeping me from marrying Gerlie.  After thanking Rich, I then took a ride back to NAS Cubi Point where LCDR "Mac" MacCrossen requested I change into a flight suit.  Feeling like Tom Cruise, we then lifted off, crossing the Bataan Peninsula and Manila Bay, and landing at the U.S. Embassy.  While the helicopter was turning, I was met by a Marine who escorted me quickly into the American citizen section where I raised my right hand and took an oath.  I quickly signed some paperwork and I was told then that I was free to marry the love of my life.  I was rushed back to the helo, put in the gunner strap and lifted off towards Corrigedor Island, where General MacArthur boldly voiced "I shall return."  What a view it was!
After flying around Corrigedor, we flew back to Subic Bay over the South China Sea and as we were landing, STERETT had just left the Naval Magazine pier and was heading towards Alava pier.  After landing at Cubi Point and getting out of my flight suit, I realized I had failed to grab a shirt to get off-base, so I took a cab ride back to Alava pier to meet the ship finally at that point I was calm and relaxed after the day's events.  While waiting for the ship to moor, a Chief asked me what I was doing there, and I told him what had transpired that day.  He said, "Well then, let's get you home Shipmate."  He put me in his car and whisked me away towards Subic City where Gerlie's family was awaiting my arrival.  After thanking the Chief, I arrived at my future wife's home, and I asked for a cold "San Miguel."  Everyone was amazed that I was not worried or concerned about getting to Manila.  After quickly downing my beer and asking for a second one, Gerlie's family was in shock, wondering why I had no worry in the world.  I then proceeded to tell them this story and how less than 24 hours before, an angel by the name of LCDR "Mac" MacCrossen had been sent by God and rescued me from despair.  That evening we were married and the next day, I was able to get the mother of my child an ID card application before the ship got underway.  With a peace of mind not ever felt before, I was grateful to LCDR "Mac" MacCrossen, his Detachment, and everyone who had a part in making me that happiest Sailor, husband, and soon-to-be-father!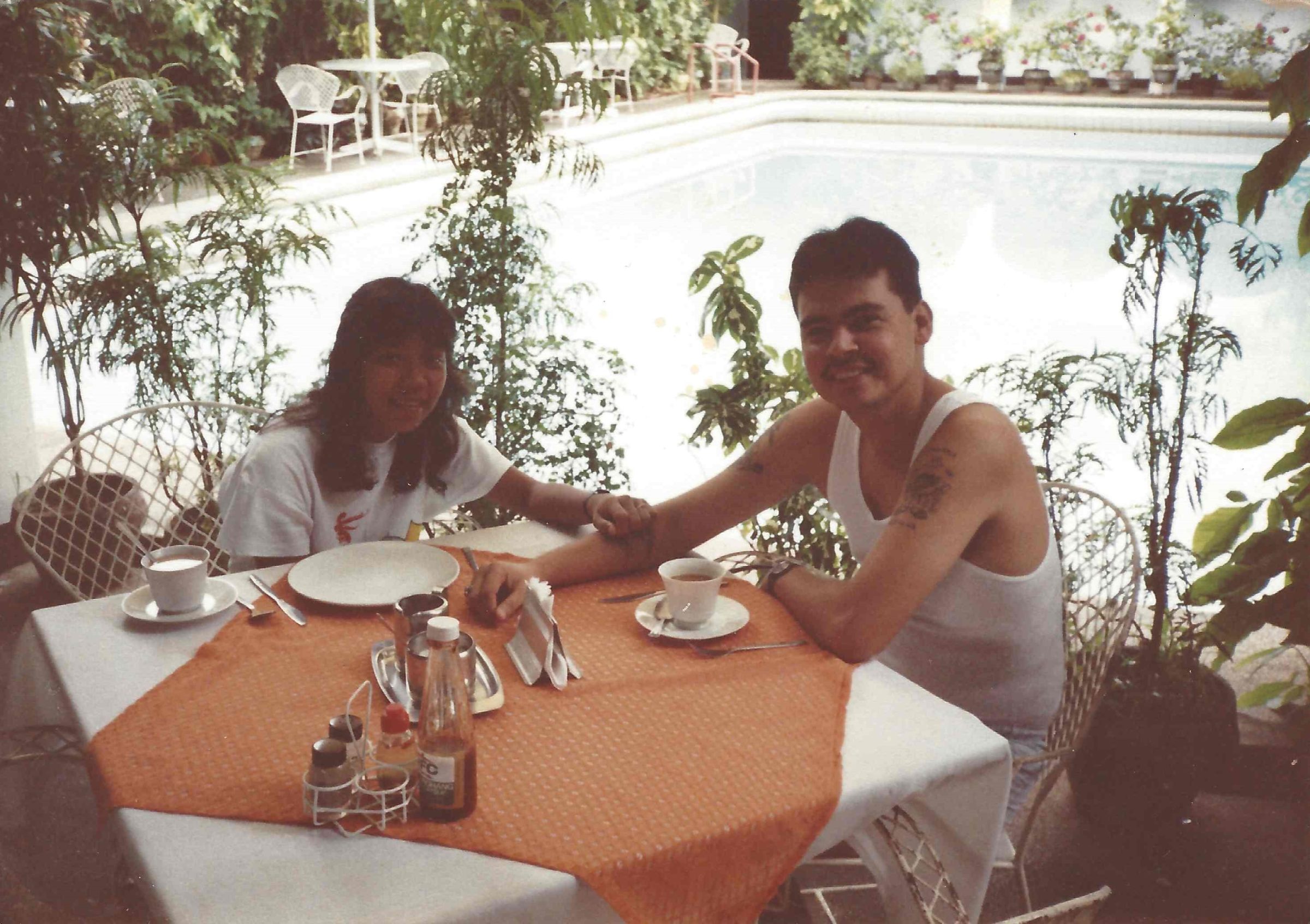 Charles and Gerlie at Pagsanjan Falls, Laguna, Philippines (August 1988).
But wait, there is more…now for the rest of the story:  the day after we left Subic Bay, we had an engineering casualty in our port shaft and the ship had to limp back into port.  Arriving the morning of Monday the 29th of May, Gerlie was shocked to see me walk in (no phones in those days) but was happy to see me with all my gear and hearing that I would be home for a few days.  That evening, Gerlie went into labor and my oldest son was born the very next day at the U.S. Naval Hospital Subic Bay!    What a way to end my stellar tour aboard the mighty warship STERETT – it was then that my love for that ship and its crew was truly solidified forever!!!
In 1998, the USS STERETT Association was established in Aurora, Colorado.  A year later, I was selected as a Master Chief Petty Officer, just 10 years after leaving STERETT.  I became an Honorary Plankowner of the Association to support its mission and to hopefully cross paths with Shipmates who served with me – to personally thank them and shake their hand.  Since retiring in 2013, I have attended every STERETT reunion and have had the opportunity to thank so many.  Regrettably, I have yet to find LCDR "Mac" MacCrossen or anyone from HSL-33's Detachment SIX to express my gratitude.  Recently, I found a plaque (see below) on the internet with all their names, which will make my quest to find them much easier.  God willing, I will continue to go to reunions and help the Association in any capacity, as I consider it a "labor of love."
As Paul Harvey famously used to say, "and now you know the rest of the story!"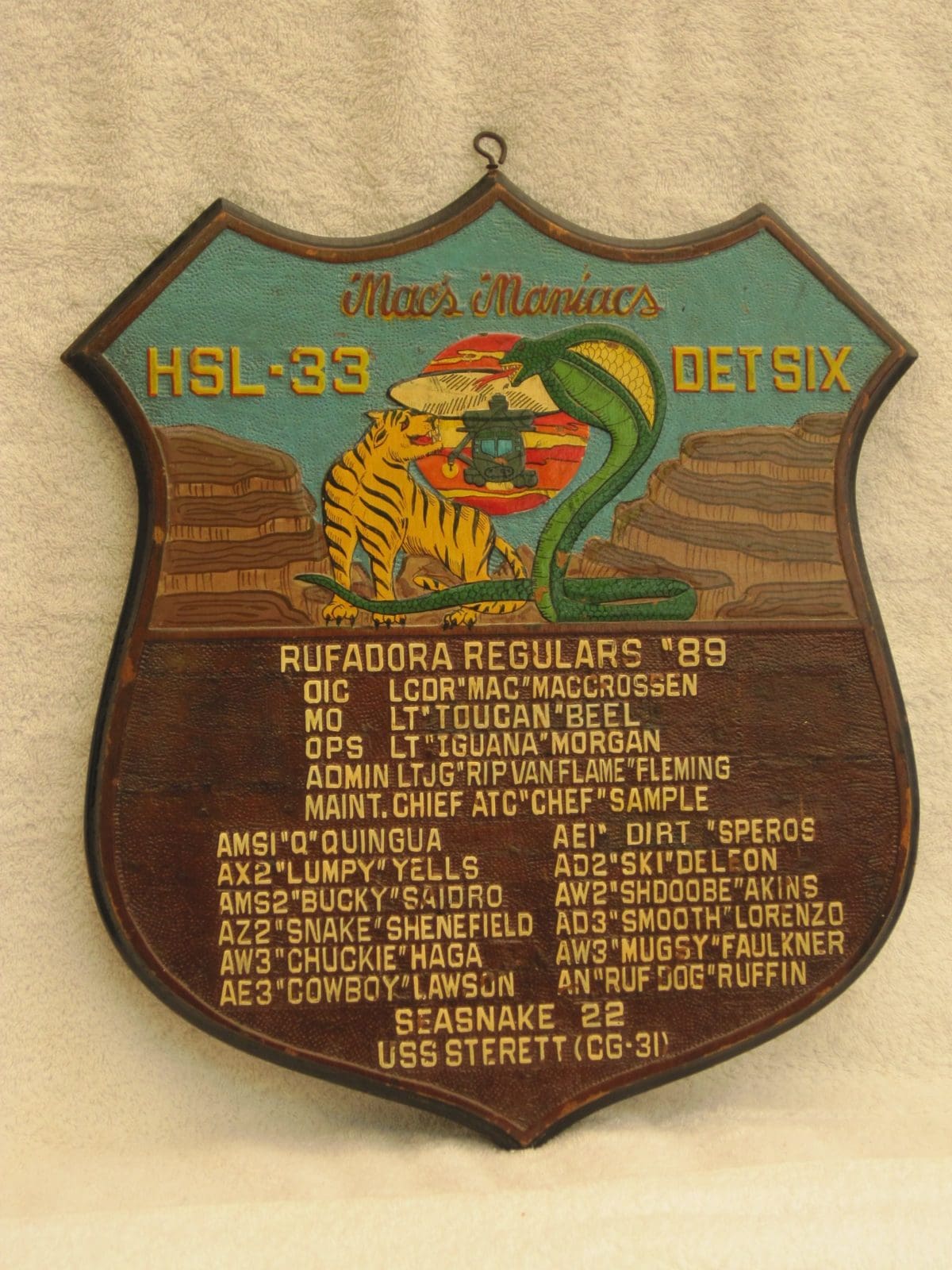 Update: Johnny "Mac" MacCrossen and Glenn "Iguana" Morgan have been located.  I have expressed my gratitude to them.  Hope to cross paths in person one day soon.
If anyone knows the whereabouts of any Det SIX Crew, please call me at (360)720-4401, or email me at acts.9.15.saul@gmail.com, as I would love to shake their hand and say "thank you" for taking care of me back in 1989!
Chuck Bond, Command Master Chief, U.S. Navy (Ret.)  
This content is restricted to site members. If you are an existing user, please log in. New users may register below.