Rescues – 20 & 21 July 1983
Commanding – CAPT G.E. Sullivan III
"On the 20th and 21st of July, STERETT rescued 262 Vietnamese refugees who were adrift off the Southern Coast of Vietnam.  The arrived in Thailand on 22 July and turned over the refugees to Thai authorities" (Command Report, 1983).  The ship was enroute from Pattaya Beach, Thailand, conducting local operations.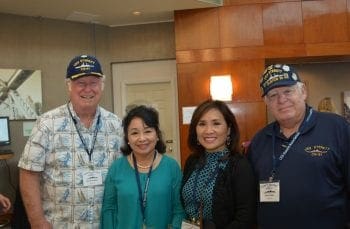 From left to right: "Captain Sullivan, my mother – Nga Le Nguyen Phuoc, me – Liennhu Doan and Mr. Steve Hayes (Sterett Association – President)," by LienNhu "Lana" Doan.
The Sterett Story by LienNhu Doan
WLOX TV Report Number May 2011
This content is restricted to site members. If you are an existing user, please log in. New users may register below.