Lieutenant Andrew Sterett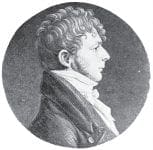 The ships named Sterett were named after Lieutenant Andrew Sterett, born 27 January 1778 in Baltimore, Maryland.  Andrew's father was a successful shipping merchant who had served as a captain during the Revolutionary War.  Andrew was the fourth of ten children and despite his sizable inheritance, entered the Navy as a Lieutenant on 25 March 1798 at the age of twenty.  He served as Third Lieutenant aboard the newly commissioned frigate Constellation.  He was in command of a gun battery during the undeclared war with France in which the fledgling U. S. Navy scored its first victory on the high seas against the French frigate L'Insurgente.
By February 1800 Andrew Sterett had been promoted to First Lieutenant and participated in successful battles against French ships. Later that year he assumed his first command, the schooner Enterprise. This was the first US Navy ship to bear that name.
The Enterprise sailed to the Mediterranean with Commodore Richard Dale to quell the Barbary pirates. Andrew Sterett and the Enterprise went up against the pirate warship Tripoli in a furious engagement. He successfully fought off three attempts by the pirates to board his crippled ship. Enterprise beat back all attacks and defeated the pirates. He was presented with a sword by President Thomas Jefferson and his crew received an additional month's pay for their heroism. Following several more dispatches to the coast of Tripoli, Sterett and the Enterprise witnessed the return of freedom of the seas in the Mediterranean for American ships. He returned home in March of 1803 and resigned from the Navy in 1805. He pursued a career in the merchant marine and died a premature death in Lima, Peru on 9 June 1807 at the age of thirty.
Andrew Sterett left the U.S. Navy with a rich tradition of determination in the face of seemingly insurmountable odds.  His bravery, gallantry, and heroism live on in the ships that bear his name.