"In the name of the United States I christen thee STERETT," proclaimed Michelle Sterett Bernson!!! 
Christening of the fourth USS STERETT (DDG 104) – the blessing of ships dates as far back as the third millennium BC, when the ancient Babylonians, according to a narrative, sacrificed an oxen to the gods upon completion of a ship.  Today, the christening is often conducted during the launching.  The ship's sponsors, which are most often women, break the bottle of champagne and ceremonially give the ship it's name.  The christening took place May 19, 2007, at Iron Works, Bath, Maine.
Download the Christening Booklet.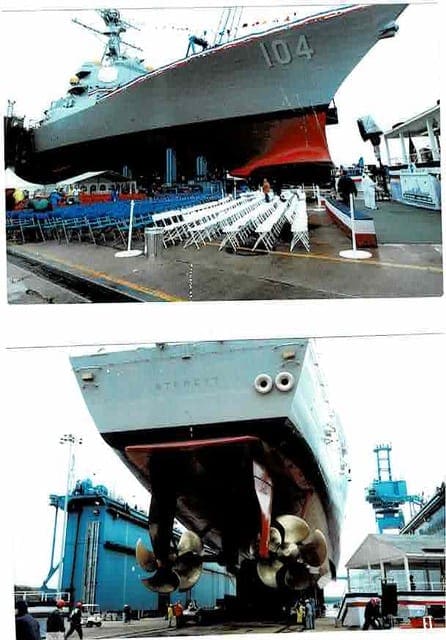 Top: Bow of the fourth USS STERETT.  
Bottom: Ship's screws – what a site!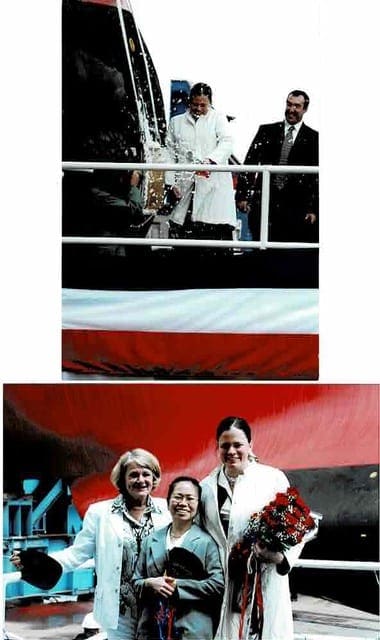 Top: Ship's Sponsor Michelle Sterett Bernson conducts the traditional shattering the ceremonial bottle of champagne bottle against the gleaming bow of USS STERETT (DDG 104).
Bottom: Left to right – Diane Sterett (Matron of Honor), Dr. Le Phung (Matron of Honor) and Michelle Sterett Bernson (Ship's Sponsor).
This content is restricted to site members. If you are an existing user, please log in. New users may register below.