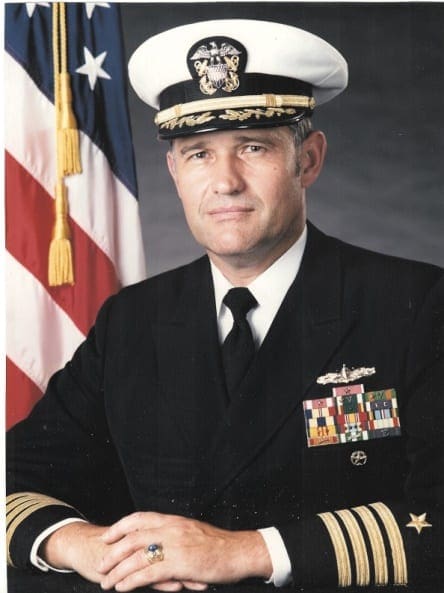 Captain Richard P. Genet is a native of Barrington, Illinois, graduating from the U.S. Naval Academy in 1965.  He served in weapons, operations and engineering departments in USS KEPPLER (DD 765) and USS BLUE (DD 744); as executive officer of USS RAMSEY (FFG 2) and USS NEW JERSEY (BB 62); and as Commanding Officer in USS LIPAN (ATF 85), USS PLUCK (MSO 464), USS SELLERS (DDG 11), and USS STERETT (CG 31).   Captain Genet's shore assignments included Director of Advanced Projects at the Fleet Combat Direction Systems Support Activity, San Diego; Department Head, Combat Systems Support Branch, Office of the Chief of Naval Operations; Executive Assistant to the Joint Staff J-6, Command, Control, Communications and Intelligence; as the Joint Staff J-63 Department Head responsible for all systems integration in the National Military Command Center; and as Commodore of Destroyer Squadron THIRTEEN. 
Captain Genet holds a Bachelor of Science Degree in Electrical Engineering from the U.S. Naval Academy and a Master of Science Degree in Computer science from the U.S. Naval Postgraduate School, Monterey, California, where he also graduated from the pilot Weapons Systems Acquisition Management curriculum.  He is a Graduate of the Naval War College and the Armed Forces Staff College with Distinction.  He has been awarded the Defense Meritorious Service Medal, the Legion Merit (gold start in lieu of three awards), the Meritorious Service Medal (gold start in lieu of two awards), the Navy Commendation Medal with gold Star and combat "V," and the Navy Achievement Medal with gold Star and combat "V," and various campaign medals and foreign awards.  Captain Genet has a total of 32 years U.S. Naval Service.
Following his U.S. Naval Service, Captain Genet had a second career with BAE Systems where he became that company's Chief Cartography and Chief Hydrographer and served as the company's Vice President of Homeland Security and Department Head for GeoSpatial Data Production.
Captain Genet is married to the former Karen Ann Harrison of Kenosha, Wisconsin.  They have four children: Richard, Danielle, Adam and Peter, and seven grandchildren: Jordan, Zoe, Elle, Gracie, Thea, Sam and Harrison.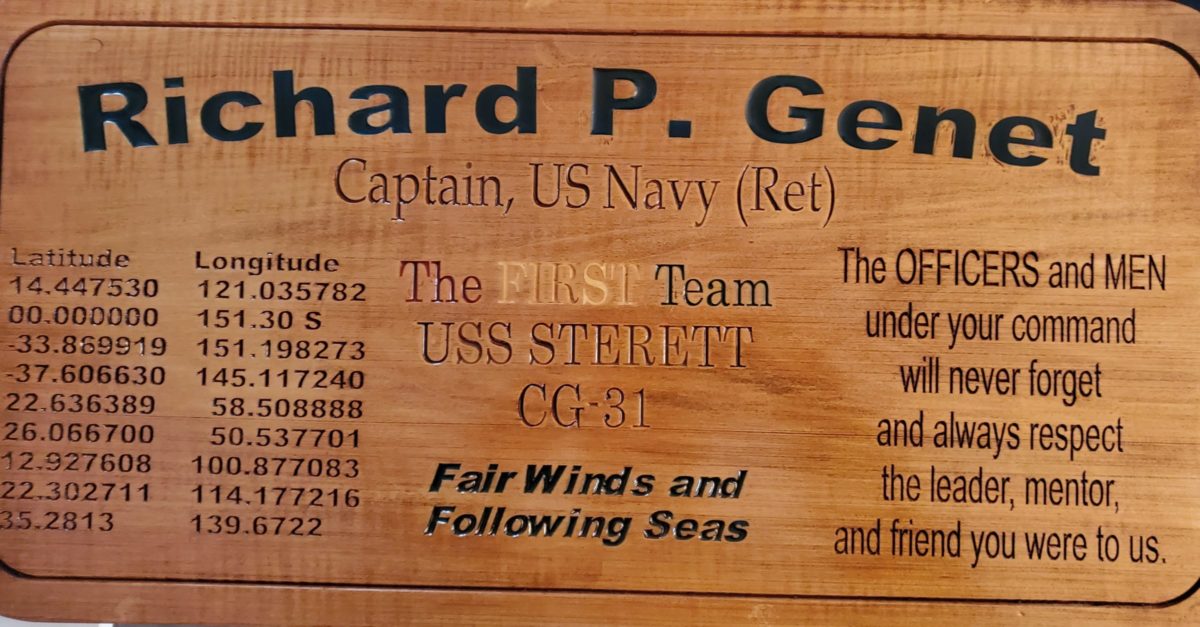 This content is restricted to site members. If you are an existing user, please log in. New users may register below.