Battle of Dong Hoi – 19 April 1972
USS STERETT (DLG 31) 1972 Command Report
Since the North Vietnamese began their invasion of thirty March, it became evident there was an ever increasing tempo, not only in the operations of friendly forces, but also an increase in enemy activity.  On 19 April, the action came to its peek for men in STERETT.  The following is a scenario of the Battle of Dong Hoi Gulf :
USS STERETT (DLG 31) in company with Task Unit 77.1.2 consisting of USS OKLAHOMA (CLG 5), USS HIGBEE (DD 806), and USS LLOYD THOMAS (DD 714), was proceeding to conduct shore bombardment against Dong Hoi, North Vietnam.  OKLAHOMA CITY followed by HIGBEE and THOMAS were approximately 5 miles off shore, two thousand yards apart.  THOMAS was controlling STERETT's LAMPS helo in a coordinated shore bombardment/helo spotter effort.  STERETT was in a holding position 12 miles from the target area at 5 knots maneuvering on various courses toward the shore in order to keep her missile battery unmasked, keeping her bow toward the target in anticipation of a possible air attack.
At the onset of the shore bombardment, STERETT held positive identification of at least two hostile aircraft flying at approximately 3,000 feet in the hills and mountain area of Dong Hoi.  After one false start, an enemy aircraft closed the formation at an elevation of about 50 feet and STERETT fired a salvo of missiles scoring a direct hit with the second missile seconds after the hostile aircraft has attacked and bombed the HIGBEE, destroying her after gun mount.  STERETT then picked up indications of at least two additional hostile aircraft in the air over Dong Hoi and as the remainder of the formation departed the area, STERETT remained behind and engaged a second aircraft with a second salvo of missiles.  The aircraft turned and fled between the mountains causing the missiles to intercept out of visual range.  Information from other sources indicate high probability of a kill of a second MIG.
During the same period, up to seventeen unidentified fast-moving surface contacts were reported and observed on radar, all closing STERETT and departing the formation.  Because the surface contacts were the primary threat at that moment and enemy aircraft were being engaged by STERETT controlled F-4 MIG CAP, STERETT opted to acts as a buffer for the damaged HIGBEE and stood fast, ready to launch missiles against any surface or air target forward of the beam.  In this position, the ship could also change course by 60 – 90 degrees and bring her missiles to bear if the MIGs decide to leave their mountain sanctuary.  A simultaneous precisely-timed attack from this area would obviously have been the most difficult to defeat.  Several false targets were reported by various ship's CICs and a state of mild confusion remained until STERETT locked on one of the surface targets about ten miles away with MFCS and observed an air target separating from it which closed the ship at 500 yards per second.  The ship took this target under fire immediately with a two Terrier salvo and an intercept was noted at 7,400 yards.  All indications lead to the evaluation of the target as an enemy missile possibly an SS-N-2 STYX launched from a boat.
Later in the engagement that day, STERETT held two high speed contacts dead astern at 8 miles closing the ship at 40 knots.  THOMAS and HIGBEE were in a position dead ahead at three miles, closing STERETT on reciprocal courses with a CPA at 2,000 yards to port and starboard.  STERETT took the high speed contacts under fire with her 5'/54 gun, ran between THOMAS and HIGBEE, and turned to the right astern of HIGBEE in an effort to close the contacts.  During this maneuver, however, the 5″/54 gun battery was masked by HIGBEE and it might have been necessary to fire a missile if immediate defense were needed and a lock-on could have been achieved at such a low elevation.  Fortunately, all indications pointed to the fact that the PT boats had been sunk; cease fire was ordered and all units continued the retirement with further incident.
STERETT was not only first to shoot down an enemy NVN MIG 17 aircraft with Terrier Missiles, by she was also first to use her LAMPS helo in Navy Gunfire Operations as an airborne spotter to direct not only her surface guns on to strategic targets but also those of the USS HIGBEE with the USS OKLAHOMA CITY relaying the spotting information.  STERETT's LAMPS also provided spotting information for the big six inch guns of the OKLAHOMA CITY.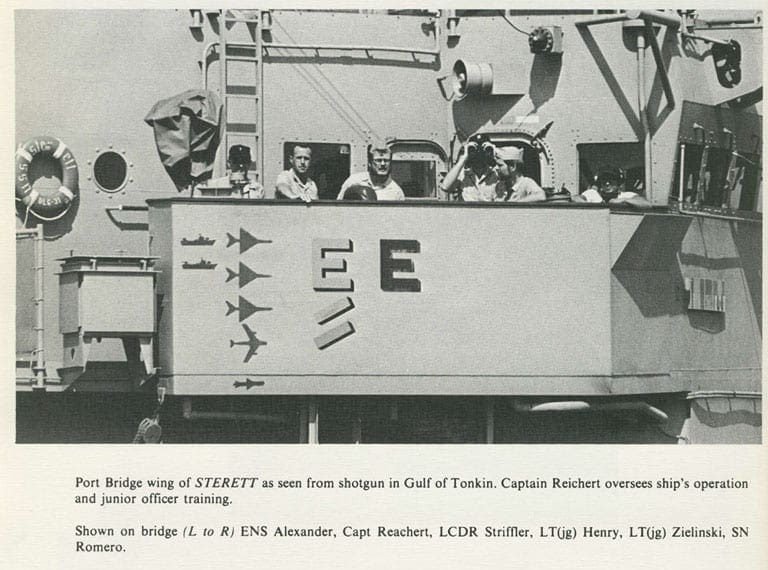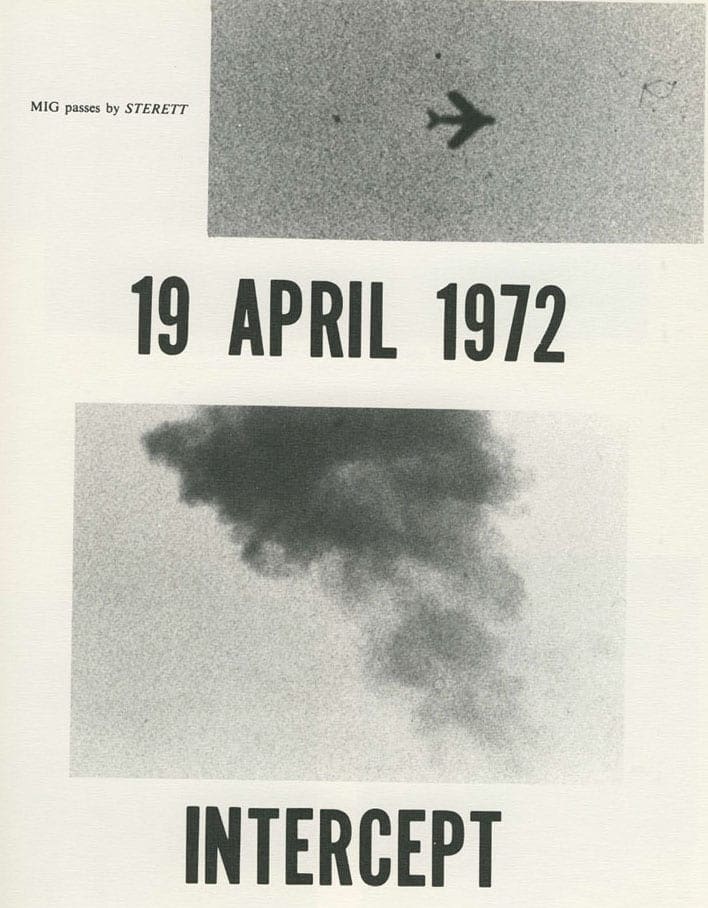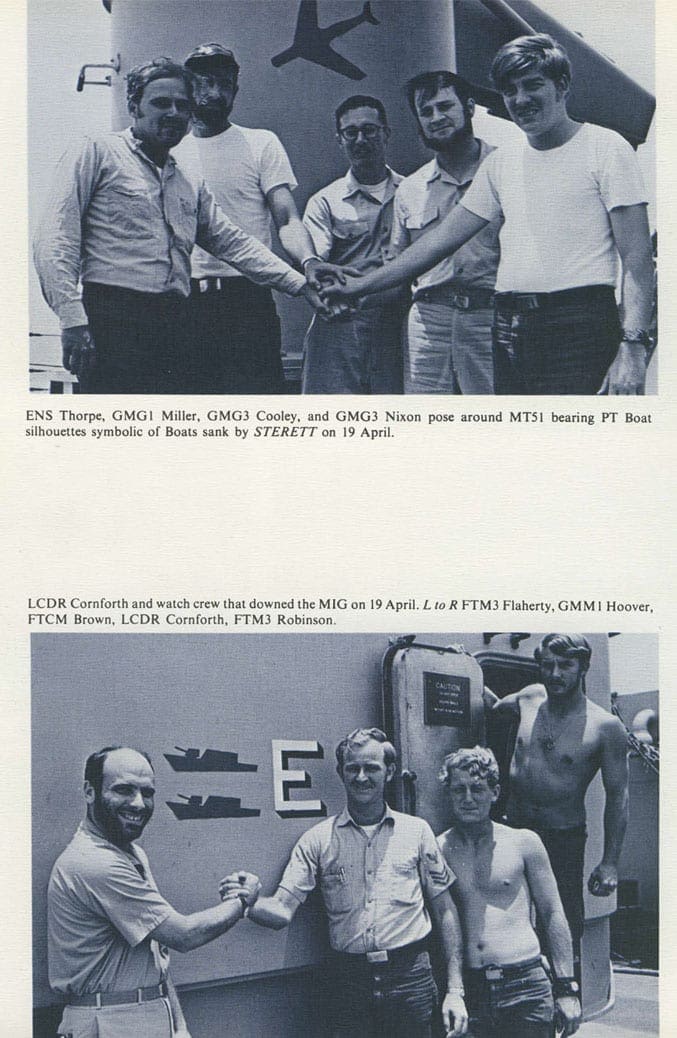 Note:  The 1972 cruisebook picture captions in front of the missile launcher and MT 51 are backwards.
This content is restricted to site members. If you are an existing user, please log in. New users may register below.